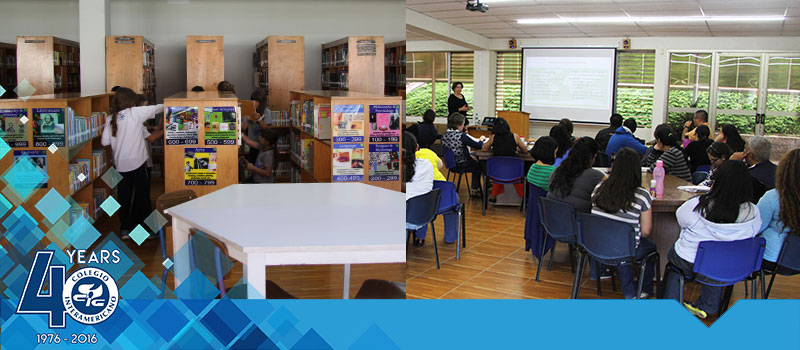 The Learning Resource Center (LRC) evolved from being a traditional library into a completely integrated media/resource center, a worldwide trend. The LRC not only encourages and supports students' interest in literature, research, and general reading, but also provides a foundation for students to obtain the necessary skills to face the 21st century.
The Learning Resource Center provides all members of the school community with access to information, reading, research assistance, and instruction that supports the curricula and educational goals of Colegio Interamericano. Integration of the Learning Resource Center Program with the curricula fosters a partnership with teachers and ensures that information skills are an integral part of learning, so that students will be able to function successfully in the information society. The program extends and enhances classroom experiences and helps the development of a lifelong love and appreciation of reading and learning.
Resources
The LRC has a wealth of materials to meet the informational needs of our K-12 Grade students. Students primarily use the Learning Resource Center to do research for class projects but they may also be pursuing interests and reading for enjoyment.
Books – approximately 23,000 books are in the collection including reference, non-fiction, fiction, and paperbacks.
iPads – Available for check out.
Computer lab on the 2nd floor and workstations in the 1st floor.
Reading Corner.
2 Study rooms
Area for presentations and conferences in both floors.
The LRC staff is committed to collaborating with all members of the school community in order to provide a greater variety of educational resources.

Contact